Sejin Mechatronics
Advances Technology Innovation
Code

Appearance

Acting

Type

Button mark

Emergency
Length of Cable

SW01

2 button

Single /
Double
English
Korean
Arrow

N

Selectable

SW02

4 button

Single /
Double

English
Korean
Arrow
N
Selectable

SW03

Square
2 button
Single /
Double

English
Korean
Arrow
N
Selectable

SW00

Selectable

Selectable
(1~10 button)
Single /
Double

English
Korean
Arrow
Selectable
(Yes/No)
Selectable
| | | | | | | | |
| --- | --- | --- | --- | --- | --- | --- | --- |
| Code | COD1 | COD2 | COA1 | COA2 | COA3 | COA4 | COA5 |
| Voltage | DC12V | DV24V | AC 110V 50Hz | AC 110V 60Hz | AC 220V 50Hz | AC 220V 60Hz | AC 220V RAC |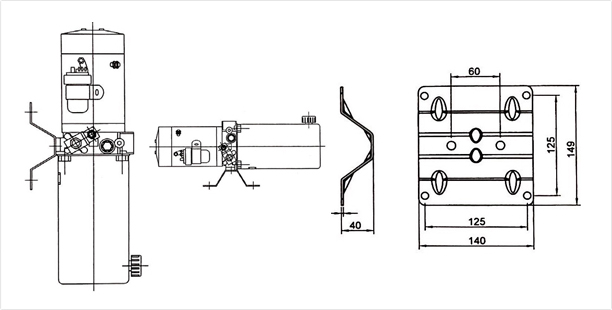 | | |
| --- | --- |
| Code | Type  |
| MB1 | Mounting Bracket |

| | | | | | |
| --- | --- | --- | --- | --- | --- |
| Code | OF1 | OF2 | OF3 | OF4 | OF5 |
| flow(I/min) | 3 | 4 | 6 | 8 | 10 |
| | | | | |
| --- | --- | --- | --- | --- |
| Code | Appearance | Type | Max Pressure | Max Flow |
| SV1 | | Element for Nor Close Valve | 350bar | 25I/min |
| SV2 | | Element for Double Close Valve | 250bar | 22I/min |
| SV3 | | Element for Nor Open Valve | 280bar | 25I/min |
| | | | |
| --- | --- | --- | --- |
| Code | Appearance | Type | Max Pressure |
| RV1 | | poppet | 210bar |
| RV2 | – | poppet | 250bar |
| | | | |
| --- | --- | --- | --- |
| Code | Schematic | Code |  Schematic |
| DVH2 | | DVC1 | |
| DVP2 | | DVH1 | |
| DVC2 | | DVB1 | |
| DVQ2 | | DVQ1 | |
| DVU2 | | DVU1 | |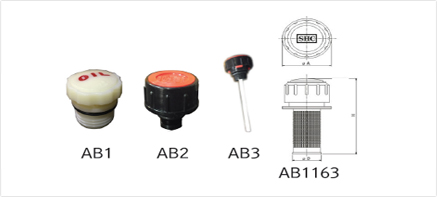 Code

Type 

AB1

PF 1/4, PF 3/8, PF 1/2, PF 3/4

AB2

PF 3/8, PF 1/2

AB3

PF 3/8, PF 1/2

AB1163
(Unit type)


A = 76mm / D = 48mm / H = 152mm

Order code ex) = AB1 + PT1/2 => AB1 – PF1/2
Except for the products above, we have various products. Please Contact us. 29
Furthermore, we are not only a good manufacturer of standard(common) products, but also
a specialist of customized ones those are designed and modified by client's special needs.
So, now we can tell you that we are ready to be of service to you.
Hydraulic composition diagram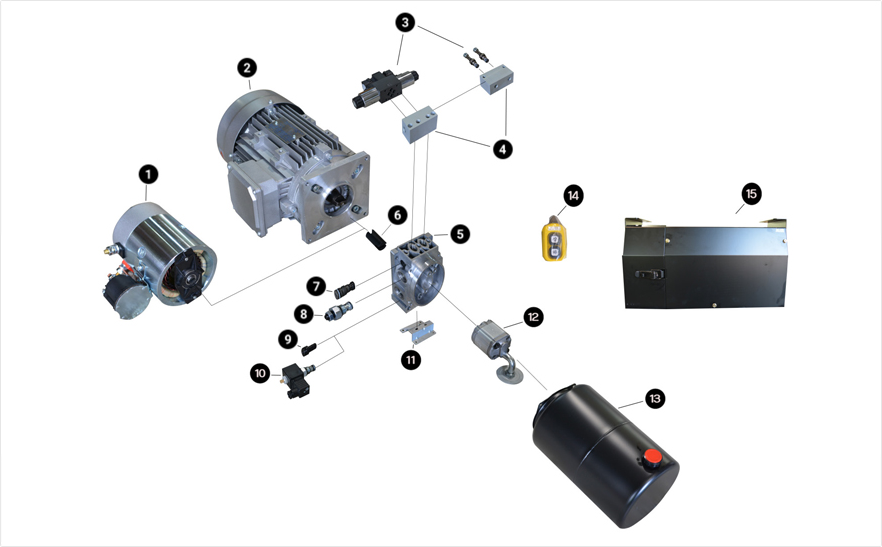 ① DC Motor  ② AC Motor  ③ CETOP3-Solenoid Valve  ④ CETOP3-Solenoid Block  ⑤ Center Block
⑥ Coupling  ⑦ Check Valve  ⑧ Relief Valve  ⑨ Orifice  ⑩ Coil&Solenoid Valve  ⑪ Bracket
⑫ Pump&Suction pipe  ⑬ Tank&Air Breather  ⑭ Controller  ⑮ BOX DC Motor
> HOW TO CHOOSE THE POWER PACK&UNIT:
When selecting this hydraulic system, the motor capacity, pump capacity and tank capacity are determined by various peripheral conditions such as pressure, flow rate, operating time and operating method in the hydraulic circuit. Before making a firm order, Please do consult once with our engineer for the correct ordering code to suit your design on the system.
> OIL TANK AND TEMPERATURE:
When selecting the size of the oil tank, always select the maximum allowable working temperature within 60 degrees. Oil for Hydraulic units is a viscosity range of 15 cst. ~ 68 cst.
> WIRING AND STARTING:
Electrical wiring always select the correct wiring for the hydraulic system. When commissioning, check the rotation direction of the pump and the safety of peripheral devices.
> CLEANING AND MAINTENANCE:
The perimeter of the hydraulic system must be kept clean at all times. If a fault is found, check the safety of the peripheral device and shut off the electricity, then Please check the oil level in the oil tank, pump condition, motor condition and valve condition. The oil should be replaced after the first 100 hours of duty and again 3,000 hours or once a year.